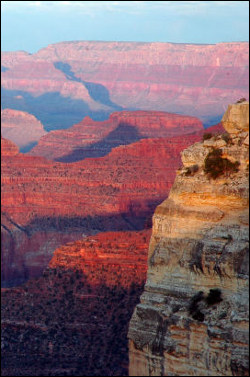 In Kurt Vonnegut's Player Piano, a character named Ed Finnerty expresses reservations about seeing a psychiatrist, saying:
"He'd pull me back into the center, and I want to stay as close to the edge as I can without going over. Out on the edge you see all kinds of things you can't see from the center…Big, undreamed-of things — the people on the edge see them first."
The Writer's Job
It's a writers job to write about people on the edge.
It's a writer's job to take readers to the edge.
It's a writer's job to sometimes be the ones teetering on the edge.
If something you're writing seems flat to you, take a character to the edge. Make other characters worry about the person and your readers will, too.
If you're feeling complacent in your writing, step out toward the edge yourself. You'll never be a great writer if you don't take chances. Sometimes it's necessary to take a stroll outside your comfort zone.
Great writing lives out on the edge — don't be afraid to go there.