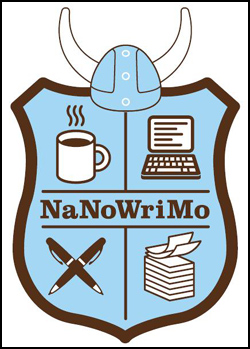 I've never taken part in National Novel Writing Month (NaNoWriMo).
I thought about doing it this year, to have a novella I could use for a podcast or include on my website, but I'm working on other things.
And that's why I've never taken part: I've always been working on other things when NaNoWriMo starts.
I've had people tell me to drop what I'm working on in late October so that I can take part. When I say, "I'm working on other things, right now," the good-natured teasing begins. I've come to the conclusion that NaNoWriMo is the literary equivalent of smoking — "Come on, all the cool kids are doing it!"
And it is cool; I'm not here to knock NaNoWriMo; however,  to explain why some of us don't take part — and to perhaps help those of you tempted to put something else aside and give NaNoWriMo a go — I'd like to make 5 arguments against participating in NaNoWriMo this year:
50,000 Words Is Not a Novel
I think it's important to ask yourself what you hope to achieve by taking part in NaNoWriMo. If your goal is to have a novel to sell, 50,000 words isn't a novel — it's a start!
If you're using the challenge as a jump start on a novel, I can think of few things better than being caught up in the excitement of so many people racing toward 50,000 words in a month. Even if you only get half the word count in, you're putting more effort into one project than most writers in November.
If you've never written anything big, NaNoWriMo is a great way to challenge yourself to do more than you've ever done before.
But if your goal is to write a full-length novel, it's best to shoot for 75,000 – 100,000 words (depending what you write), and that's a hard thing to do in a month's time (although there are people who do it!).
Is It Worth Stopping Your Current Momentum?
I've seen writers step away from other projects to take part in NaNoWriMo. It's typically more fun to work on something new than something you've been plodding away at for some time.
The problem: I've seen writers step away from projects to take part in NaNoWriMo only to not finish NaNoWriMo, end up burned out from writing so much, and not get back to what they were steadily working on until sometime in February or March.
If you're making steady progress on something, I can think of no better way to ruin it by stopping all work on it for a month.
Maybe you need a break and NaNoWriMo will be a fun distraction; maybe you can participate in NaNoWriMo and keep working steadily on your other writing. But if NaNoWriMo is going to get in the way of other writing you need to finish, why not finish that before starting something new?
Are You Doing It To Belong?
Writing is a lonely profession, and NaNoWriMo offers the chance to jump into the open arms of a community there to accept and understand you. (And I think that's great!) But are you taking part in NaNoWriMo to belong to the group, or to write?
If you're able to spend time on the NaNoWriMo forums and average 1,667 words a day, you're a goddess or god of productivity. Even if those 1,667 words aren't great, you can always clean them up in a second or third draft. If you spend more time talking with others taking part in NaNoWriMo and don't produce, though, there's a problem.
The Internet is a wonderful thing, but it can be a big distraction. The Internet is full of people calling themselves writers, but never actually writing.
Again, writing is a lonely act. I spend most of my day alone in a room, so I understand the appeal of being able to chat online like you'd chat with a coworker at a day job — hell, I've been guilty of it myself!
But if you spend more time chatting with others about writing than actually writing, you might want to reconsider calling yourself a writer.
Are You Using NaNoWriMo as a Support Group for Your Failure to Produce?
I've seen people set out to tackle NaNoWriMo, only to fall behind a week or two in. I've seen these people take refuge in knowing they aren't alone; after all, there are plenty of other people in the same situation, so you really can't feel too bad that you missed your goal.
That's an aspect of NaNoWriMo that loses me: you should feel bad when you miss a goal. (Not so bad that you kick yourself to the point of self sabotage, but bad enough that you don't come up with excuses and let a failure to produce become acceptable.)
If you get behind with NaNoWriMo and have the urge to jump online and chat with others in the same situation — don't do it! Put your ass in a chair and write, instead!
Surrounding yourself with people who come up with excuses for not writing and saying it's okay that you didn't make it only reinforces a very bad habit.
Will Participating in NaNoWriMo Affect Other Responsibilities?
I'm a firm believer that over the course of a week, everybody can find the time to dedicate what comes to an average of an hour a day to write. I believe that if you give your time to others, that they should give to the writers in their lives time so the writer can write. But there are times when work and life should come before writing. (It's when those times become the norm and you find yourself never writing that it's an issue.)
Don't let NaNoWriMo become an excuse to withdraw from responsibilities. Chances are, what you're writing for NaNoWriMo will go nowhere (that doesn't mean it's not worth doing — I think writing for the love of writing should always come before writing for other reasons). But if you have bigger things to take care of and can't dedicate that much time to NaNoWriMo without sacrificing the things you need to do — chances are — the whole thing will lead to unnecessary stress.
There's nothing wrong with not being able to take part in NaNoWriMo. If you average 250 – 500 words a day, guess what? you are well on pace to produce a novel or two a year!
It's like the old fable — you really can win in the long run by being the tortoise…while taking care of work and life responsibilities, too.
*          *          *
Please don't take what I've written as a slam on NaNoWriMo; I think it's a great thing and would have really enjoyed taking part in it this year.
I really do think it's important to ask yourself what you hope to get out of it, though. If you're just wanting a challenge and some fun, I can think of few things better than NaNoWriMo. But if you need the challenge in order to produce, I think you're in for some hard times as a writer. Writing isn't always fun. For me, it's always satisfying, but not always fun.
Of course, for that reason alone, I understand the appeal of NaNoWriMo. I've known people who write steadily all year and take part in NaNoWriMo because it's the one month of the year that writing seems bigger to them than constantly getting 500 words out a day, no matter what…all year round.
If you plan to jump into the month of madness, I hope this post I wrote last year will help you stay focused in the mad dash toward 50,000 words.
Good luck to everybody writing in November, no matter your pace. Regardless of whether you take the approach of the tortoise or the hare in the writing race, what really matters is crossing the finish line and, after catching your breath, having something you're mighty damn proud of in the end!