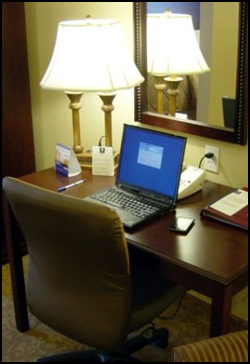 All this week, I'm discussing writing vacations and writing-related things you can do on family vacations.
Today: A Solitary Getaway.
* * *
If you've exhausted your vacation time and aren't able to get away for a full week, consider a long weekend alone in a hotel.
Maya Angelou keeps a hotel room when writing, a place where she can write without interruption.
She's not alone.
Holing up in a hotel room allows a certain disconnect from the stresses of daily life without disconnecting from society. You can still get out and see things that inspire you, but after knocking around you don't have to return home where all the things you have to do seem to cry out for attention.
You can let others take care of the cooking and cleaning so you can focus on writing and relaxing.
Even if you're in a room just down the street from where you live, there's still something about writing in a hotel room that feels special. It's easy to imagine you're someplace else; the act of writing somehow seems bigger when you're sitting at a desk in a room all your own, if only for the weekend.
* * *
The reality for most of us is that until the big break comes along (if it comes along) we have to juggle our day jobs with writing and having a life.
The hustle and bustle of everyday tasks often puts writing on the back burner. After a long weekend of living the writer's life, you may not be quite ready to return to work, but you'll at least know if you have what it takes to make your writing dream a reality.
* * *
If you enjoyed this entry, check out the rest of this week's series: