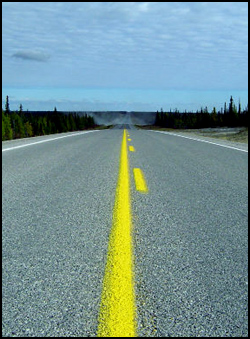 All this week, I'm discussing writing vacations and writing-related things you can do on family vacations.
Today: Road Trippin'.
*          *          *
I grew up north of Chicago–my father lived in Kansas City. I looked forward to seeing him each summer, but almost as much as the visit, I looked forward to the road trip to Kansas.
In 1988, I took the scenic route to the International Juggler's Association Convention in Denver, Colorado. I hopped in a car with a friend from a local juggling group and made a big loop from Texas to New Mexico, Arizona, Utah, Colorado, Oklahoma, and back to Texas.
Today, whether it's a quick jaunt from Dallas to Austin, or driving to Missouri and Illinois to visit my wife's family, I still live for hopping in the car and driving places.
There's something meditative about the highway flying beneath the wheels of the car as you cruise along, free to think for hours on end.
It never gets old.
*          *          *
Road trips have inspired many songs, movies, and books.
My first novel was a humorous story about a family taking a cross-country road trip in a possessed station wagon.
It's hard not to get inspired while driving along.
Hitting the open road offers all the elements of a good writing vacation:
You may find inspiration in the footsteps of your favorite writers and add local color to your writing with each stop.
You can revel in the solitude that comes with the endless march of mile markers as you make your way down the highway.
You can find a quiet place to write at the end of each day before fading off to sleep, ready for the next day's adventures.
Road trips, like writing, are often full of surprises. Sometimes letting go and following your instincts along the way or when hitting an unplanned detour brings the biggest surprises and rewards.
*          *          *
This isn't so much a how-to article, but a call to action.
While the leaves prepare to turn and before the cold settles in, why not grab a notebook and hit the road…if only for a weekend?
*          *          *
Tomorrow: A Room of Your Own.