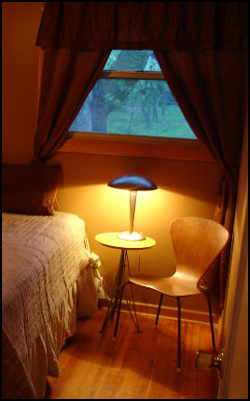 All this week, I'm discussing writing vacations and writing-related things you can do on vacations.
Today: Your Own Writing Retreat.
*          *          *
Having trouble finding the right writing retreat?
Not wanting to pay the cost of an expensive retreat?
Why not pool your resources with other writers and create a retreat of your own?
*          *          *
On Monday, I mentioned Mark Finn.
I met Mark almost 20 years ago through the Texas independent comic book scene and have been friends with him since.
Mark's a member of Clockwork Storybook, a group of professional writers with similar interests. Each year, the members of Clockwork Storybook get together for a retreat of their own creation. They've holed up in Rudyard Kipling's old house and been not-so-holed up in Las Vegas. They challenge each other and have plenty of time for in-depth critiques of the stories they create.
If daily challenges and critiques aren't your thing, consider getting together with other novelists and split the cost of renting a quiet place where you can all escape the stresses of everyday life for awhile and write.
Depending on where you stay, you can let someone else take care of the cooking and cleaning while you enjoy the camaraderie and the uninterrupted time to create.
Before getting away, make a schedule so everybody knows what to expect and has something to look forward to. Be sure the schedule allows plenty of time for writing…and stick to it.
If money's an issue, rent a block of cabins at a state park or rooms at a quiet bed and breakfast where you and other writers can hike, bike, chat, and write.
*          *          *
Sometimes on The Juggling Writer, I write entries about things I haven't done, but know have worked for other writers I know.
This is one of those entries.
Each year I hear about Mark Finn's getaway with his writing buds, I think about how nice it would be to have at least a weekend getaway with the guys in my writing group.
Hopefully by the time this entry turns a year old, I'll have done that, because it sounds like one of the best things there is…
*          *          *
Tomorrow: Road Trippin'