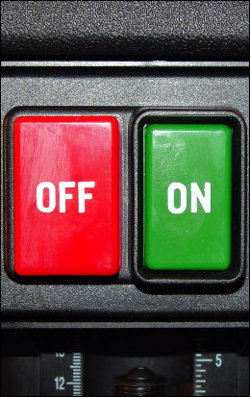 I've been listening to The Nerdist podcast. (Anybody even vaguely into stand up comedy should listen to it, especially the Drew Carey episode.)
I started listening to the Andy Richter episode yesterday.
About 27 minutes into the podcast, they talk about stand up comedians who are always on.
I've been around a few people like this, years ago, at comic book conventions. They're usually people who aren't funny enough to play off their environment, so they try steering every conversation toward material they've done, even if it's only been done alone before the bathroom mirror.
The example used in The Nerdist episode I'm listening to went something like this:
"…you can tell if a comic is trying to steer something in the direction of a bit that they want to try out. 'Yeah, I know you guys — It's great that you saw Avatar. Hey, have you had salads, lately!? What's going on with that?'"
Sadly, that example isn't too far off from the strange leaps some would-be comics make to turn the spotlight their way.
There's a writer version of this person. I usually encounter them at parties…complete strangers who steer everything their way so they can talk about writing.
ME: "Hi, my name's Christopher — nice meeting you."

THEM: "Hi. Sorry if I seem out of it. I was just pondering if I should name the main elf in the story I'm writing Sylvin or Elwynde…"
or
ME: "How do you know so-and-so?"

THEM: [STRETCHING] "Oh, man — I'm so tired from staying up until the wee hours of dawn writing. Most people don't realize how much writing takes out of you…"
Don't be this writer.
*          *          *
When it comes to writing talk, it's better when friends speak for you. Listening often says more about you than talking. If you must talk about writing, keep it to a minimum, or only talk at length to people who are genuinely interested in what you have to say.
*          *          *
Nobody likes the comic who's always on; the writing version is even more annoying.