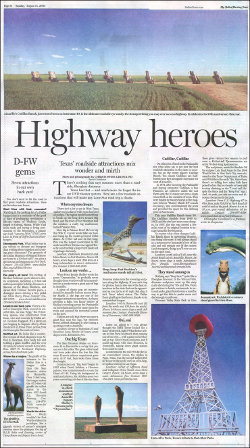 Each day this week, I'm sharing query letters that worked for me.
Today, I'm sharing the story that resulted in my first travel article. I'm also sharing the second query to the same publication.
I've previously mentioned that I pitched my first travel article after a layoff seven years ago.
I don't have the original query that resulted in the sale, but the story went something like this…
*            *            *
After being laid off from a job years ago, my wife and I decided to go to East Texas, to Caddo Lake State Park. We'd wanted to see Caddo Lake for years.
Since I was unemployed and needing money, I thought, "Why not see if the Dallas Morning News is interested in running a small spot about Caddo Lake State Park?"
I can't find the original query, but it explained that I was going to be spending time at Caddo Lake State Park, hiking and canoeing and enjoying the fall foliage.
I had never written a travel piece, so I kept the query short. There was obviously more to it, but the feel of the query said, "It's autumn and I'm heading to East Texas, one of the few places in the state to see real fall foliage. While I'm there, I plan to hike and canoe. I threw in some information about the state park from my research. I mentioned the one newspaper credit I had before pitching to the Dallas Morning News and focused on what I'd deliver. (Had I not had a newspaper credit, I would have just focused on what I planned to deliver.)
I didn't get an assignment from the query, but I did get a reply that said, "This sounds good — please send the piece and photos when it's done."
When I got back from East Texas and submitted the piece, I was told they wanted to run it — I had sold my first travel piece!
(Unfortunately, the piece didn't run when scheduled. When it was set to run, there was a dispute over water rights from Caddo Lake, and the paper had been covering that and didn't want another piece about Caddo Lake. They told me it would run in the spring, and it did — without the photos I took of the lake and fall foliage. The lesson: when you're starting out, be flexible.)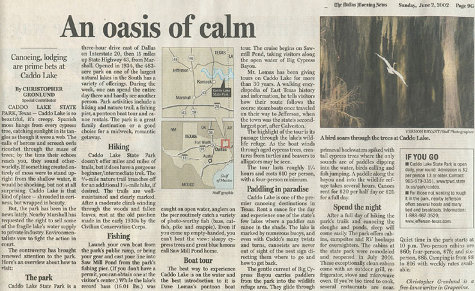 *          *          *
I really enjoyed writing my first travel piece for the paper.
I love getting out and driving around Texas. It's a huge state, with so many different things to see.
When I was young, I loved road trips with my father. I loved stopping at wacky, side-of-the-road attractions. When Cadillac Ranch turned 30 years old, I had to make the trip to Amarillo to celebrate. Since I was heading that way, I decided to pitch another travel article to the Dallas Morning News. This is the letter that resulted in a bigger assignment than planned:
[My information is flushed right for the actual letter.]
Christopher Gronlund
ADDRESS
CITY, STATE & ZIP
PHONE
E-MAIL
DATE
NAME
POSITION
The Dallas Morning News
ADDRESS
CITY, STATE & ZIP
Dear Mr. [EDITOR NAME],
Wildflowers are in bloom and the weather's warming up—it's the perfect time for a road trip or planning that big summer trek.  But what would a road trip be without those wonderful roadside attractions?  From the ten feet tall roadrunner, Paisano Pete, in Fort Stockton, to the world's largest killer bee in Hidalgo, Texas boasts some of the biggest and best attractions in the nation.  This May, one of the most legendary roadside attractions not only in the state—but the entire country—turns thirty: Cadillac Ranch, in Amarillo.
Cadillac Ranch is an attraction so popular that growing up near Chicago, even I knew about it when I was young.  My views of the state I'd later call home were shaped by those ten Cadillacs half-buried in the dirt just as much as the Texas Tall Tales I heard in elementary school.  Texas was a place of legend, and I've always wanted to see one of its most legendary attractions; I will in a couple weeks, just in time to deliver an article about Cadillac Ranch's thirtieth anniversary.
In June, 2002, you published a piece I wrote about Caddo Lake State Park, and I'd welcome the opportunity to write for the Dallas Morning News again.  In addition to highlighting Cadillac Ranch for this article, I can also include a brief section about ten other Texas roadside attractions and how to visit them, as well as a sidebar directing readers to ten attractions right here in the Metroplex.
If you are interested in seeing this article about Cadillac Ranch's thirtieth anniversary and other Texas attractions, please reply by phone or e-mail.  I look forward to hearing from you.
Sincerely,
Christopher Gronlund
How it Worked
The query resulted in a sale of an article I hadn't really planned to write.
I planned to visit Cadillac Ranch and write about it. I planned to research 10 other stops online and write about them.
I hooked the editor on Cadillac Ranch, and he wanted detailed descriptions of 10 other attractions and the sidebar about local attractions!
That meant driving all over the state, instead of just driving to Cadillac Ranch.
Why it Worked
I kept the query short. (Are you seeing a trend, here?)
I gave the editor several options to choose from, and he came back with a great assignment.
What Happened?
I wasn't unemployed when I pitched this article, and I didn't have much vacation time reserved. This meant that every weekend that spring, I piled into a car alone, with my wife, or with friends, and made mad dashes all over the state. To save money on campsites and hotels, many of those trips were out and back in a day! I had to really plan each trip, capturing as much as I could along the way, knowing that many of the stops wouldn't be picked.
I was still able to make a nice little profit on the article. Even if the article had cost me, it would have been worth it — It was the most fun I ever had writing, and I have many great memories of all those trips.
(A quick note: since I was still a new freelancer, I paid for the trips. Be prepared for that when starting out. Don't go into travel writing expecting that everything is paid for along the way by the publisher — do it because you love travel and would see the places you write about even without an assignment. Consider any profit a bonus. Do that enough, and you just might see some money up front down the line.)
*          *          *
Tomorrow's Query
Tomorrow, I'll share a travel pitch that resulted in four assignments, and share the story of my biggest writing regret.