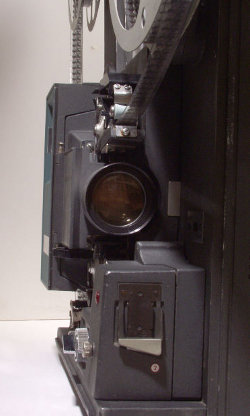 Today's query letters aren't letters at all.
Sometimes the pitch is in person or over the phone (over the phone in today's examples).
*          *          *
A friend I made when my wife and I were doing comic books bumped into somebody in development at two movie studios at the San Diego Comic Con.
He heard this person was looking for material and he mentioned me. (Behold, the power of networking!)
I was given a number and told to call.
The call went something like this:
Me: "Hello, [name]. My name's Christopher Gronlund. My friend, [friend's name], spoke with you at the San Diego Comic Con. He said you are looking for new material."
Contact: "Yes. [Friend's name] said you had two screenplays. I'm interested in learning more about them."
Me: "Great — thank you. The screenplays are called Old Man and Hell Comes with Wood Paneled Doors. Old Man is about a sixteen-year-old who assumes the role of an old man in a last ditch effort to connect with his dying grandfather. After his grandfather dies, he doesn't give up the act–he gets worse. Hell Comes with Wood Paneled Doors is a humorous coming-of-age-story about a family traveling cross country in a possessed station wagon."
Contact: "Hell Comes with Wood Paneled Doors is the script that advanced at the Austin Film Fest?" (My friend told the contact that I made the first cut in the humor category at the Austin Film Festival's "Heart of the Screenplay" contest.)
Me: "Yes."
Contact: "That got my attention. That and the little bit [friend's name] told me about the screenplays. Based on the contest and what I've heard, I'd like to read these. If you'll give me your address, I'll send a release form your way. I'm really looking forward to reading these."
I gave the contact my address and thanked them for their time.
*          *          *
How it Worked
This quick pitch resulted in a representative for two major studios requesting to read my screenplays.
Why it Worked
First, because I'm lucky enough to have friends who speak up for me, and I do the same for them when I can. The friend who helped me in this case was somebody we met when my wife and I were doing comic books. At the time this opportunity happened, we were no longer doing comic books.
Having a good friend who was familiar with the two screenplays and willing to speak up for me was, obviously, the most important part of this opportunity.
Being prepared for the call and having my pitch ready was the other (i.e., keeping things short).
The urge to keep talking about the things we write can be overwhelming, but keeping your pitches short is your best bet.
Always have your one or two line pitch ready. In addition to that, write a double-spaced, one-page synopsis of your story and practice a longer pitch! Don't repeat the one-page synopsis — just know it very well so you can talk about it naturally and get back to it if you stray during your one-minute pitch. Anything beyond the one-page synopsis — if asked for even more information — and you should be familiar enough with your work and confident enough to discuss it.
In this case, I knew the person on the other end didn't have time when I called. But my two loglines (short pitches) were enough to get my screenplays read.
Advancing in a major screenwriting competition didn't hurt, either.
What Happened?
The screenplays were very well received by my contact at the studios…so much so that I thought the contact was just being kind when they called and told me they had to pass.
The reason the studios passed on the screenplays had nothing to do with my writing. Hell Comes with Wood Paneled Doors required a larger budget than they had for the project. Old Man wasn't what the main studio was looking for at the time. (But I was told if I had sent Old Man to the studio being acquired a year or two earlier that the person in development would have fought to get the movie made. For me, this was all I needed to hear; since my teenage years when I first thought about writing a screenplay, I daydreamed about selling a story to the studio. Knowing that it could have happened was reward enough for me.)
While Old Man and Hell Comes with Wood Paneled Doors were not picked up for development, I was invited to send more writing anytime I had something new.
The third screenplay I sent was not as well received as the first two screenplays, and goes down as my all-time favorite rejection.
*          *          *
I know yesterday's query and today's pitch didn't result in a sale, but I still see them as queries and pitches that worked.
So many times, we're so focused on selling our writing that we sometimes forget how important forming relationships is.
The person who rejects your work several times, but invites you to keep sending more, may very well be the person who eventually gives you your big break.
I've met writers who take even the kinds of rejections I've discussed yesterday and today personally. I've heard about writers lashing out at the people who rejected their work, even if the rejection came with an invitation to send more writing as it's completed. These writers need to learn how to handle criticism, because no matter how good you are as a writer, nobody wants to work with an ass.
Tomorrow's Query
Tomorrow, I'll share two queries that resulted in travel writing sales.