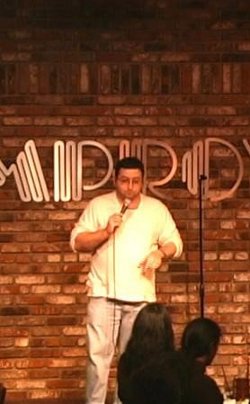 People love to laugh.
It doesn't matter if what you write is serious or humorous, making people laugh is giving them what they want.
Here are 5 tips for writing funny, even if you aren't:
1. Be Universal
If you don't think you have it in you to be funny, you're not paying enough attention to your surroundings.
How many times have you laughed at a story, stand up comedian, or movie because it touched on some universal truth?
We see the humor in a pet eating a special dinner right before guests arrive, the car breaking down on the way to a wedding, or children putting food into expensive electronics because we can all relate to those situations.
Humor isn't about getting a knee-slapping guffaw with every line; humor is about getting a smile, a chuckle, or even just a nod of agreement.
Leave the obscure and riotous comedy to those who do it well.
All you have to do is write something light and get your readers to relate to it.
It's not as hard as it sounds.
For study: Anything by Erma Bombeck, Dave Barry, or David Sedaris.
2. Juxtaposition
Adding humor into a serious scene is an easy way to be funny…and real.
When my father died in 1991, his service was very casual. My sister and I – who threw the service together at the last minute – asked people to get up and tell stories about my father. The service was definitely not without its share of very serious stories, but it was also not without its share of humor. The humorous stories all followed something serious.
When we hurt, we want out, and a good way out is through laughter.
It wasn't surprising to hear the story about my father setting himself on fire and running around like a cartoon character after a touching story told my his sister because everybody needed to laugh at that moment.
When using this tip, don't use too much funny. When sprinkling humor into a serious scene, a little goes a long way.
For study: John Irving's The World According to Garp or A Prayer for Owen Meany.
3. Study Funny People
There's a common misperception about funny people: that they are inherently funny.
Just like writing well, being funny takes practice.
If you find it hard to be funny, join an improv group, or read a book about comedy writing.
Watch a wide range of stand up comedy, finding comics who focus on the kinds of things you write about. When and how do the laughs come?
Not all comedians rely on jokes and loud personalities; in fact, the best comics are storytellers, just like you!
For Study: Watch your favorite funny movie and really think about why you laugh. Can you bring some of those triggers to your writing? Go to YouTube and watch any of your favorite comics. I'm betting you'll find the bulk of their humor comes from mastering the first two tips of this entry…and the next one.
4. Build on the Situation
When you know you're writing funny, don't stop — keep going!
And going…
And going…
When the funny is flowing, take it as far as you can, even if it seems beyond ridiculous. You can always cut back what doesn't work, or use it someplace else.
I learned this bit of writing advice at a comedy writing workshop at a juggling convention the year after I graduated high school, and it's served me well over the years.
Small laughs grow into bigger laughs when you stack humor; it doesn't take too much stacking to get a reader howling and sharing passages with friends and loved ones.
For study: Anything by Jonathan Tropper. (There are many scenes in How to Talk to a Widower that illustrate this tip.)
5. Not Too Much
Even books known for being funny rarely go overboard with humor. Readers need to take a breath now and then. Like any good writing, passages should build and retreat.
Humor works best when we wait for it. How many times have you laughed at something even harder because you anticipated something funny coming your way?
You don't have to be funny with every sentence you write. If you're striving for funny, keep enough humor in what you're writing so the reader is always waiting for the next laugh, but don't pack your story with so much funny that it's clear you're trying too hard.
More than anything, humor is about honesty, and people can tell you're not being honest when you try to hard to convince them otherwise.
For Study: It may seem strange to illustrate the "Not Too Much" point with a book widely regarded as one of the funniest books ever written, but John Kennedy Toole's A Confederacy of Dunces is a good book to read for this point. Sure, there are many humorous and awkward passages, but even in Confederacy of Dunces, it's not too much; there are still sections that make the reader wait for the next laugh.
Bonus Tip: The Farting Dog.
I don't care what you're writing — every story can benefit from a farting dog!
*          *           *
Photo credit: LA writer and comic, Erik Lundy. Follow Erik on Facebook, Twitter, or check out his business site.