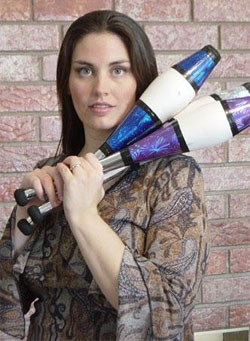 My wife knew my writing before she knew me.
She was an artist working for a small independent comic book publisher in 1992. I was writing for the company. She read a couple scripts I wrote that were being developed, and she loved my writing.
Being the spouse of a writer can be a very tough thing. I can't speak for every writer, but I can go silent as a thought hits — often, at the most inopportune times. I can fret and pace when the words aren't coming out the way I'd like. I'm big on the whole, "Just a few more minutes of writing," that roll into hours…
My wife understands all that.
Writing can be lonely; I'm lucky to have somebody who understands that I need that time alone. I'm lucky to have somebody so close to me who is one of my most trusted readers. I'm lucky to have somebody so close who totally holds her own when it comes to juggling!
Writing has enriched my life in so many ways, but the best thing it ever did for me is brought me to a little comic book company where I met the artist who became my wife.
I wouldn't be the writer I am today without her.
Halloween has always been a favorite holiday, but there's something I love about it even more than the cool weather, costumes, and fun surrounding the day.
Halloween is also my wife's birthday!
Happy birthday, Sweetie!
Thank you for everything…